Issue 01: Vietnam's Street Knights
Fines for Skype calls, toll booth fraud, and why John Bolton is trash.
QUICK NOTE: This is a reboot. To our new subscribers, thank you. To our old subscribers… surprise!!! And I hope you don't mind that I've changed to a hosting platform that's more en vogue.
---
PREAMBLE: Current Affairs
To no one's surprise, the failed Hanoi talks about the Korean peace process were tanked partly by Mr. "To stop Iran's bomb, bomb Iran" Bolton. 💩 Weird how Trump is the US President who's put the most effort into ending the Korean War. 🤔
Here's analysis on North Korea from sources who actually care about human lives 💓: This interview with Christine Ahn, the founder of Women Cross DMZ, a woman-led initiative to end the Korean War. Also, Tim Shorrock breaks down misinformation about the recent missile activity and explains how hawks ruined the talks. 🦃
---
THE TAN BINH STREET KNIGHTS
In the lead-up to this February's Lunar New Year, the Ho Chi Minh City police (Công an Nhân dân) created a new taskforce solely for the prevention of street crimes.
Undoubtedly encouraged by the hordes of idiot tourists, petty cons, pickpocketing, and grab-and-runs (rather, grab-and-motor-scooter) are features of daily life.
But the problem is so out of hand that unsupervised volunteers fight crime on their own. Known as Street Knights, they can receive "50 to 100 calls for help every day". In an interview with VNExpress, a vigilante bakery owner recounts being slashed by machetes while out delivering bread - one of many revenge attacks he's experienced.
National debate about these "robber-hunters" began after the double murder of Nguyễn Hoàng Nam (29, truck driver) and Nguyễn Văn Thôi (42, motorbike taxi driver).
May 13th, 2018: Seven of the Tân Bình District Knights confronted two men attempting to steal a scooter. Within 13 seconds, the suspects pulled out knives and stabbed five of them. Hoàng Nam and Văn Thôi died immediately from their wounds. The other three victims were rushed to People's Hospital 115.
The murderers were in custody the following day, with a third charged for harboring criminals. One of the men they'd injured was actually the founder of the local street knights unit, Trần Văn Hoàng (47) - a man who has "caught up to 500 thieves in a 20 year period". He miraculously recovered from a deep, 10-centimeter long gash to his torso - which caused substantial damage to his lungs, heart, and liver.
In the aftermath, Party Secretary Nguyễn Thiện Nhân committed the government to all funeral and hospital expenses, as well as to the financial care for elders and minors in Hoàng Nam and Văn Thôi's families.
The temporary Lunar New Year task-force seemed like a good start at taking the weight off the backs of local citizens. But it's just a start.
And all we can do from home… is watch the street knights go viral on YouTube.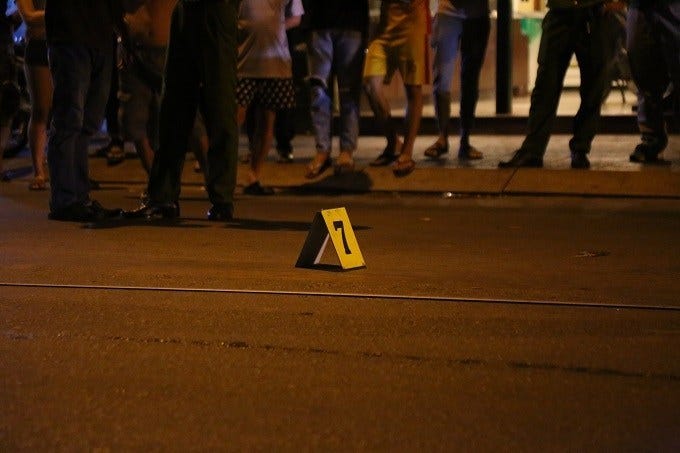 Crime scene on Cach Mang Thang Tam Street, Ho Chi Minh City. Photo by VNExpress / Son Hoa.
---
POSTAMBLE: Ripped From the Headlines
🚗 Today in Vietnam, volunteers are sitting at toll booths and counting cars - they suspect that the toll booth managers are committing fraud
👮 Last Friday in China, a wanted criminal applied for a job at his local police station
☂️ This February, a man in Singapore was fined because 366 people clicked "Going" on his Facebook event - a Skype call with Hong Kong activist Joshua Wong
💸 In 2017, a top investigator in New Delhi mysteriously vanished… then popped back up as the mastermind of a string of ATM robberies